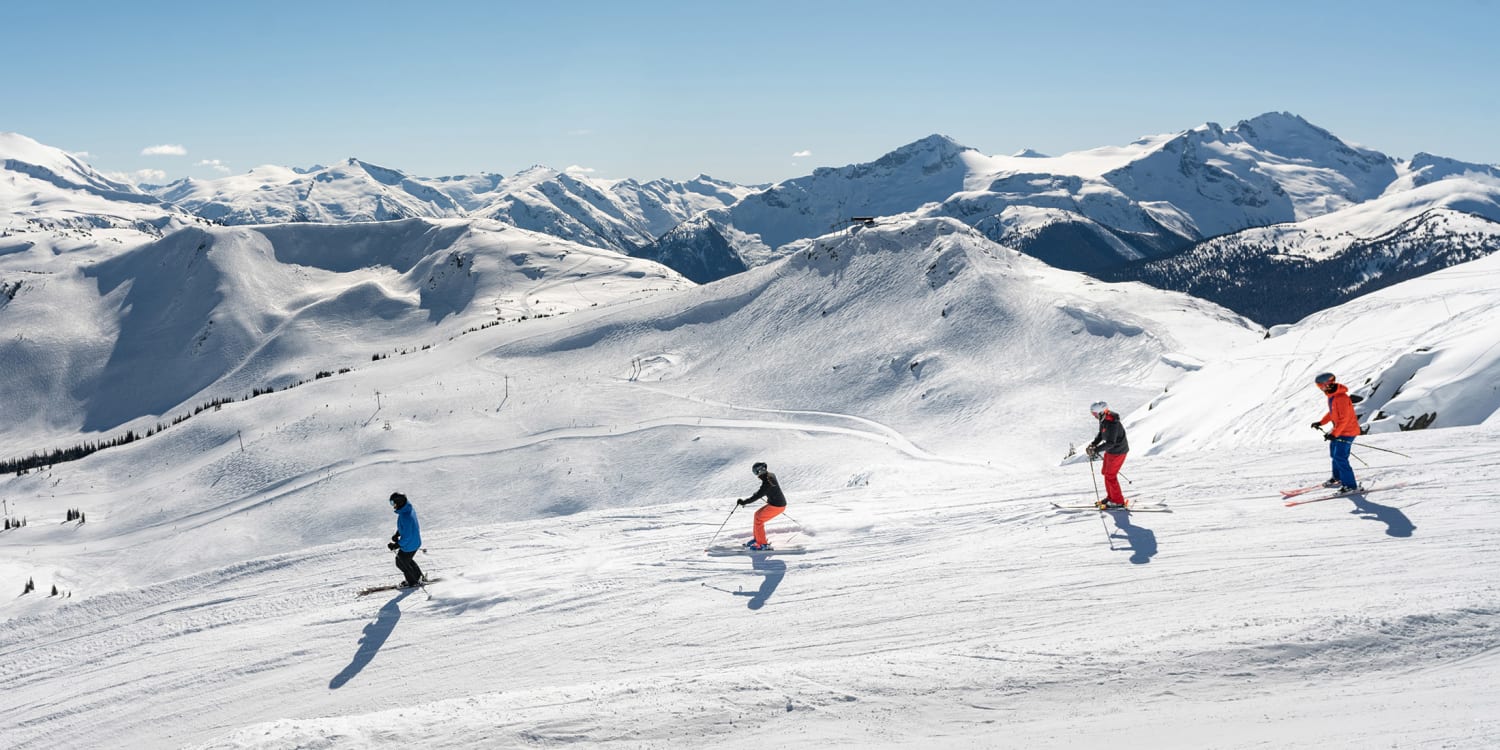 MAX 5 Lessons – Group lessons
*Please note lessons are subject to availability with Whistler Blackcomb Snow School. Lessons must be sold with accommodation and must be booked at least seven days prior to your arrival date*
Snow School's newest approach to improving your riding, MAX5. No more than five people per instructor means you get more of what you want – mileage, attention, value. It's simply the best way to maximize your time on the mountains. Join us in a MAX5 lesson to build your confidence while you learn & discover our incredible mountains.
PROGRAM BENEFITS
Less is More – There is no doubt that having a maximum of 5 people in a group lesson creates the perfect environment to build your confidence while you learn & discover our incredible mountains.
*Small class size – Max of 5 participants
*Long term pros – know the best terrain to learn and improve on
*Learn the skills and pleasures of snowboarding, in a fun safe environment, guiding you through the challenging conditions and terrain on Whistler and Blackcomb.
*Lift line priority
FLEXIBLE
*MAX5 lessons are available in full day and half day afternoon options. Lessons are also available on Whistler Mountain and Blackcomb Mountain.
*Level 1-3 lessons are available as lesson only, lift/lesson and lift/lesson/rental packages
*Level 4-6 lessons are available as lesson only and lift/lesson packages.
*Full Day Lessons – Levels 1-3 meet at 9:30am, Levels 4-6 meet at 9:45. All classes end at 3pm.
*Half Day Lessons – Level 1 only meets at 12:45pm (afternoon option only).
*Level 1 to 3 – Riders meet at the base of the mountain (First time snowboarder to Comfortable Novice).
*Level 4 to 6 – Riders meet in the alpine (Intermediate green and blues to Expert full control in all terrain).
*Third Day Free Adult Ultimate Special Program is only available during off peak dates and must be on consecutive days to qualify.
Peak Holiday
December: 25 – 31
February: 17-25
Peak
December: 16-24
January: 1-7, 13-14, 20-21, 27-28
February: 3-4, 10-11
March: 2-3, 9-31
April: 1-7
Off-Peak
November: 23-30
December: 1-15
January: 8-12, 15-19, 22-26, 29-31
February: 1-2, 5-9, 12-16, 26-29
March: 1, 4-8
April: 8-14
72-hour cancellation policy.
| | Holiday Peak | Peak | Off Peak |
| --- | --- | --- | --- |
| Ski/Snowboard Lesson Full Day | $425.00 | $405.00 | $319.00 |
| Ski/Snowboard 3rd Day Free | N/A | N/A | $638.00 |
| Half Day PM FIRST TIME LESSON (LEVEL 1) | $225.00 | $209.00 | $189.00 |
+5% GST
---
BOOKING
To book a MAX 5 lesson, please send an email to connect@whistlerwired.com containing the following information.
1. Full names and date of birth
2. Ability level 1 (beginner) to 6 (expert) for everyone taking part in the lesson. https://whistlerwired.com/lesson-ability/
3. Where you would like the lesson to begin. Blackcomb or Whistler.
4. The dates you would like the lessons to take place.
Important notes
Booking confirmation will depend on availability
Payment is due on your arrival date in Whistler
You can make changes or cancellations to your booking up to 72 hours before the lesson is due to begin.
---