Whistler lakes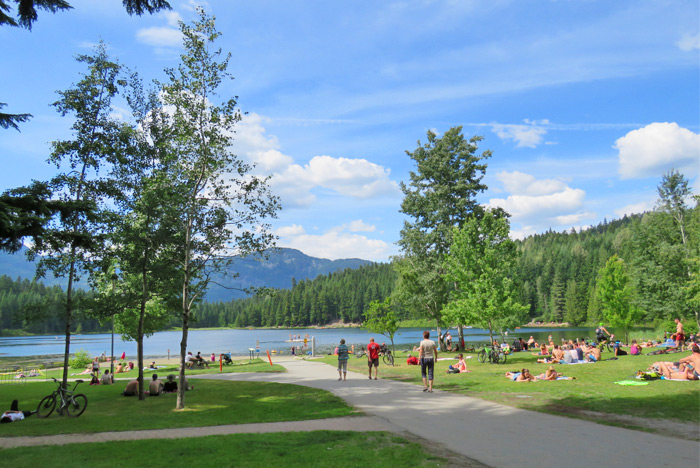 Lost Lake is located right in Whistler. You can walk to Lost Lake from Whistler Village in roughly 15 minutes or you can take the free shuttle that runs all summer. Lost Lake is safe to swim in, and it's quite warm in the summer. There are even several floating docks. Dogs aren't allowed on Lost Lake Park beach but if you walk part way around the lake, there's another beach called Canine Cove that's dog friendly.
Nita Lake is located in Creekside, about 5 km south of Whistler village. It takes about 15-20 minutes to bike using the lovely valley trail. You won't find the same expansive grass or swimming beaches at Nita Lake but this quaint lake does have a dock from which you can launch your canoe or stand up paddle board, and go for a relaxing and picturesque paddle.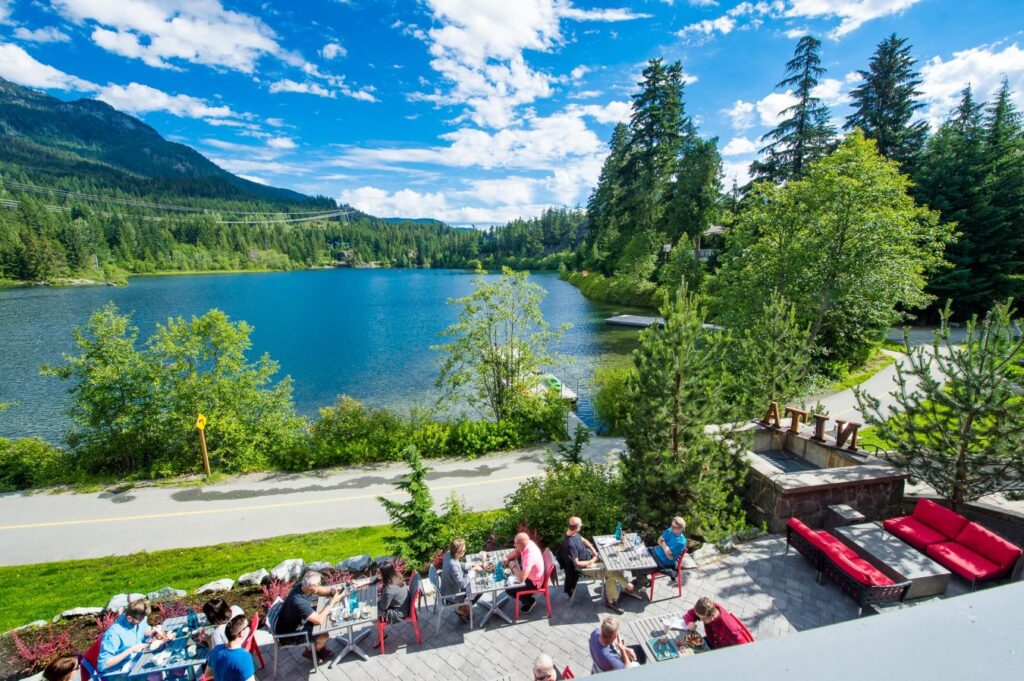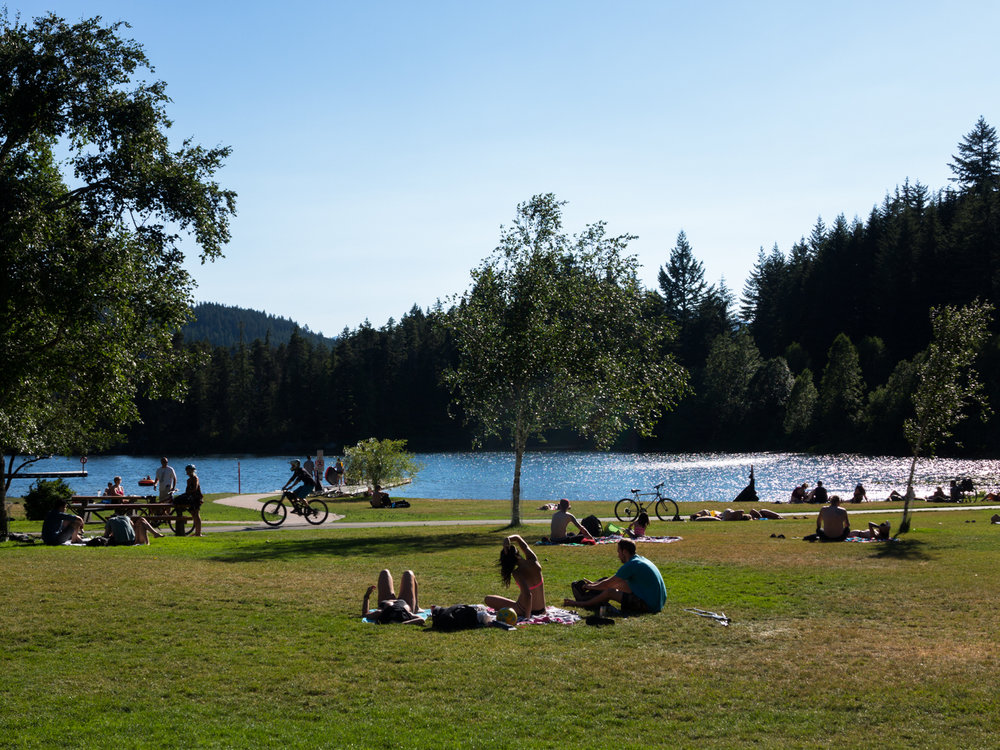 Alpha Lake is located about 5 km south of Whistler village. It is just around the corner from Nita Lake, in Creekside. Alpha Lake Park is large and has a children's play structure, dock, sandy beach, volleyball court and tennis courts, as well as picnic tables and BBQ stands. There's also an off-leash dog park.
Rainbow Park is located on the backside of Alta lake and is best to access using a bike or hiking. It is roughly a 15-20 minute bike ride from Whistler Village. Rainbow Park has amazing views of Whistler and Blackcomb Mountains. You will find beach volleyball courts, a massive grassy area, a great beach with swimming, and a picnic area too. There's a popular Whistler off-leash dog area with grass and a dock called Barking Bay at the south end of Rainbow Park.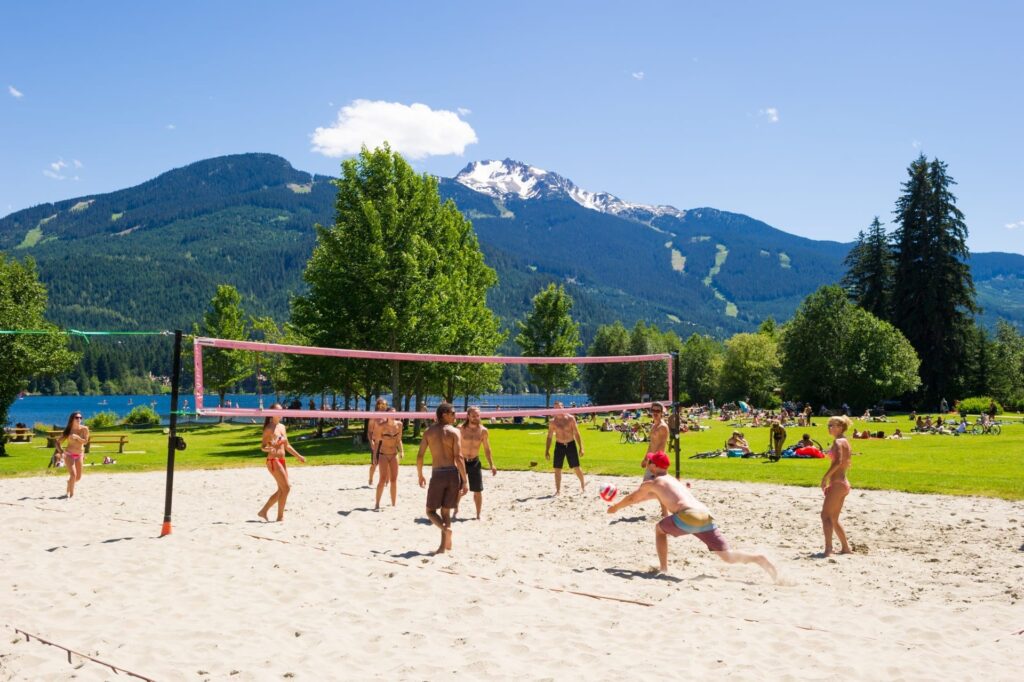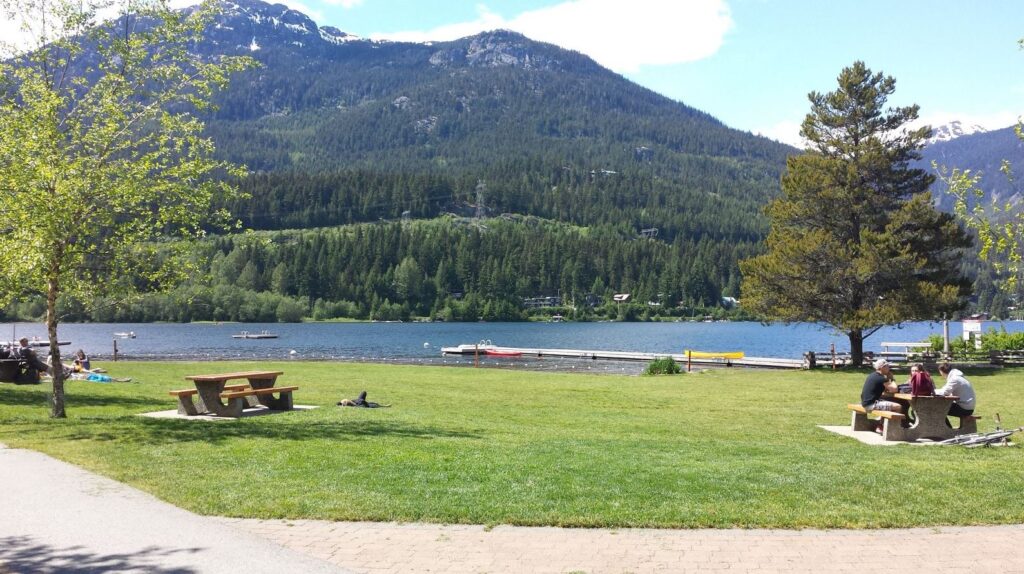 Lakeside Park is located in Alta Vista roughly 3km from Whistler Village. It is easily accessed with a bike. Lakeside is popular with families due to the children's play structure, a large grass lawn, picnic tables, barbecue stands, and a concession stand. The park is a great place to swim or go for a paddle. You can rent canoes, kayaks, pedal boats and paddle boards for use on Alta Lake.
Wayside Park is located roughly 3.5km from Whistler Village. It is a charming little park that's located right off Highway 99 and is a bit difficult to find, which keeps it nice and quiet. However, it still offers a grassy area, a dock, a beach and swimming area, as well as picnic tables and a concession stand. Whistler Eco Tours is onsite to provide canoe, kayak, and paddle board rentals, and guided trips too.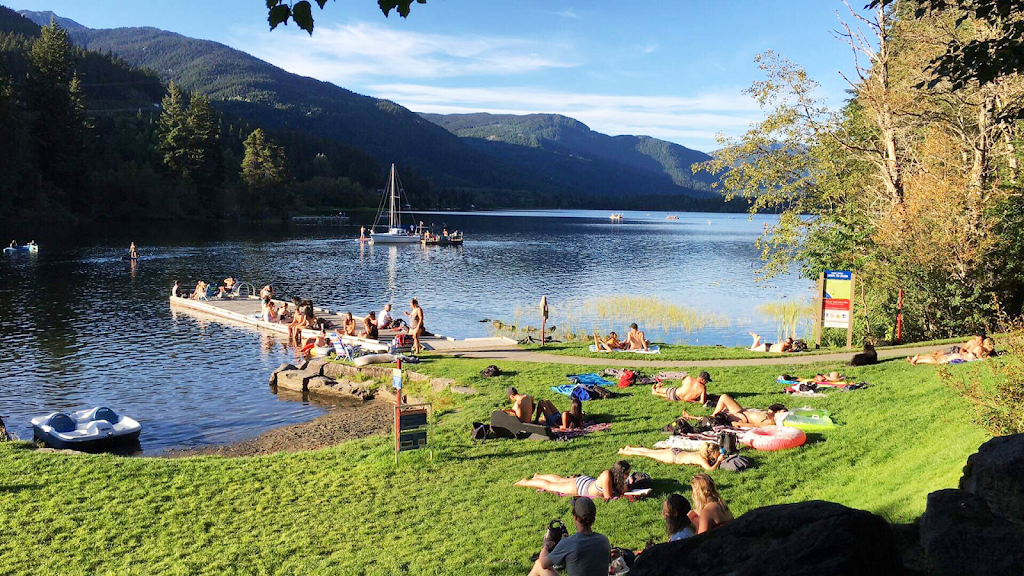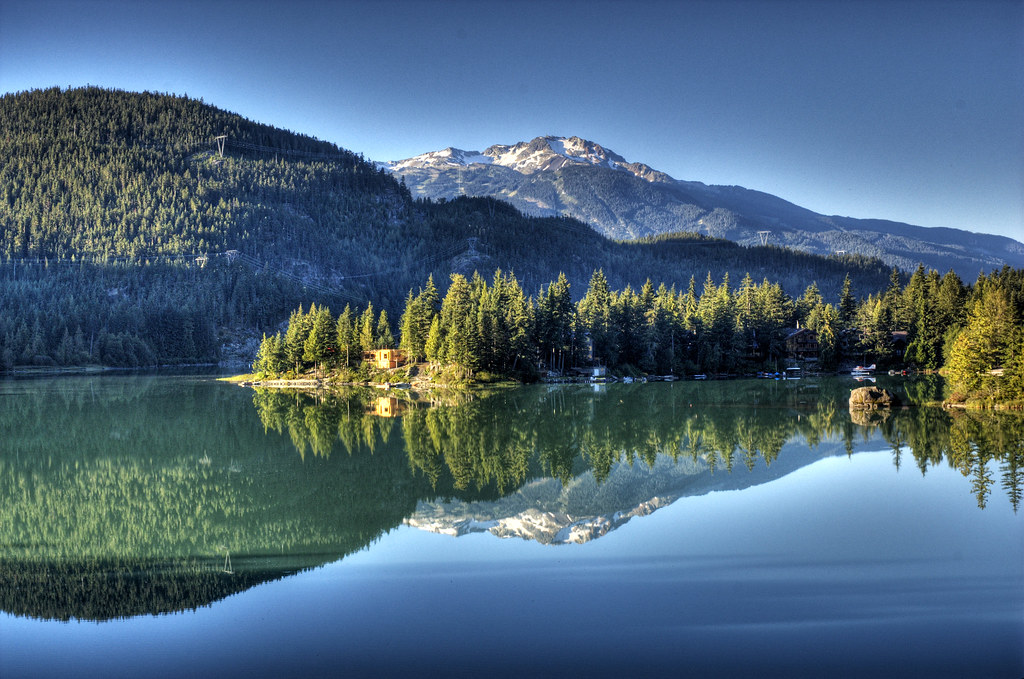 Green Lake is located roughly 4km north of Whistler Village. It is easily accessed using a bike or a short hike. Green Lake is Whistler's largest & deepest lake. This means it's significantly colder but also enables it to be the local 'airport' for float planes. A boardwalk wraps part way around Green Lake, and is a fantastic biking route. You can stop at Dream River Park to take in the views or continue around to Fitzsimmons Fan Park for a different perspective. Don't forget to stop and take a dip. This is also the only lake in Whistler where motorized vehicles are allowed so if waterskiing and wakeboarding are your jam, this is where you want to be.